It used to be so simple—just pick up a paperback and read. Of course, in the digital age, things are more complicated than that. I've talked about the trends in digital media, including the iPad, the extremely cool yet expensive tablet from Apple that has set the standard for innovation in media consumption. However, you don't necessarily need a $500 computer tablet to read digital books on the go. There are lower-priced alternatives, including free ones that you can use right now on your home computer with no strings attached. Here's an overview below in plain English to help cut through the confusion.
First, let's look at some of the common devices you can use to read digital or electronic books, a.k.a. "ebooks."
iPad
The iPad is an ebook reader, in addition to doing many other things as well. You can purchase ebooks from Apple or any vendor that has an app for the iPad, including Amazon.com and Barnes and Noble. The downside to the iPad is the high price and the glossy LCD, which can be hard to read in the sun. Also, the iPad has far less battery life than its dedicated ebook competitors below (10 hours vs. up to a month). Not to sell the iPad short, but it's really a small computer and less an ebook reader. Choose the iPad if you want e-mail, web browsing, music, video and other features in addition to ebook reading.
nook
The nook is Barnes and Nobles' ebook reader. Like Amazon.com's Kindle and ebook readers from Sony, the nook uses "e-ink" to form the words on its unlighted, matte screen that looks more or less like paper. You'll need a light to read the nook at night (just like a real book), but it's easy to read in bright sunlight (just like a real book). Perhaps the best feature for budget-minded users is the nook's compatibility with free ebooks available for download from your local library and Google books. Plus, the device itself is affordable—you can purchase a wi-fi and 3G-enabled nook for $199. With wi-fi and 3G, you can download books anywhere you can get a wireless Internet signal (such as at home or a coffee shop) or a 3G cellular signal (such as sitting on the beach). And the 3G is free—no cellular plans required, and no charges for downloading books.
Kindle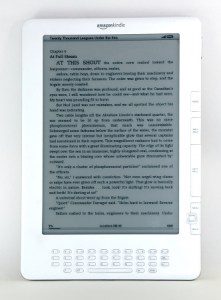 The Kindle is the nook's main competitor, and uses a similar e-ink format for that paper-like look on the screen. What you need to know is this: most folks say the Kindle's hardware is a little faster and better than the nook's. On the downside, it won't play nice with your local library or Google books, and you have to purchase your books from Amazon.com. However, the wi-fi and 3G-enabled Kindle is $10 cheaper than the nook. The Kindle is also a bit smaller, and adds a QWERTY keyboard, which the nook lacks. The Kindle DX is a larger version of the Kindle for a much higher price (read: double). Go with the Kindle if a keyboard or a really large screen (on the DX) matter to you, or if you're a fan of Amazon.com, which didn't become the world's #1 online retailer for nothing.
.pdf
There are thousands of free books available via Adobe's free .pdf (portable document format). Most are classics whose copyright has expired, although newer books are available. The choices are plentiful—just do a Google search for "pdf books" and enjoy. The viewing software, if not already loaded on your PC, is available for download for free from adobe.com. In addition, many of the same books are available for viewing right in your web browser—no .pdf viewer required.
There are other choices as well: Sony makes an ebook reader, and many ebooks can be downloaded to your "smart" cell phone (e.g., Blackberry or iPhone). And many people use a "netbook" (a tiny laptop computer, usually with a 10-inch screen that costs $300-$400) to read ebooks and do low-power computer tasks like e-mail as well. Whatever you choose, you can rest easy knowing that there are indeed affordable choices out there for every budget and use requirements.