To exhibit or not to exhibit…that is the question. In the last half of the 20th century, tradeshows were one of the most popular ways to meet and greet customers, prospects, strategic alliance partners and members of the media. The same is true today. In fact, more than 9,400 B2B exhibitions took place in the U.S. in 2015, according to the Center for Exhibition Industry Research's 2016 Census. With 33.2 million professional attendees and exhibiting organizations in 2016, the value of face-to-face marketing cannot be ignored. Yet, in the age of digital marketing, many people are asking if tradeshows are still viable. The answer is, "it depends."
When Should You Attend a Tradeshow?
Exhibiting at a show requires careful consideration. Before committing to a show, be sure that:
The attendees represent the right target audience for you.
The show is convenient (time and location).
Adequate resources (time, money and personnel) are available for planning and follow-up.
You have something exciting to share or present.
Veteran tradeshow professional, Nicole Bowman, vice president of marketing for the International Association of Exhibitions and Events concurs. She says, "Set realistic, achievable goals, establish metrics to determine if you succeeded in hitting your goals and evaluate the outcome after a show and make adjustments as needed."
When Should You Stay Away?
Tradeshows can be very costly, so make sure you evaluate carefully. Is the company short-staffed? Do you already have a crowded calendar? If so, adding a tradeshow might put current resources on overload. This is especially true when it comes to follow-up. If the educational sessions and workshops aren't compelling, or if the association or tradeshow management company's policies and procedures are restrictive, the investment in exhibiting at a tradeshow can outweigh the benefits.
Planning Is Key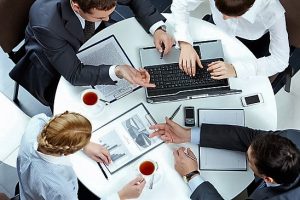 As you consider the decision to participate, remember it will require preparation and dialogue, especially between the sales and marketing teams. As part of that process, seek the answers to these key questions before making your decision.
Which show(s) is/are best for you to attend? Review last year's exhibitor list and look for competitors. If they are investing in a show, it's possible you'll want to attend as well.
Is your exhibit booth current and well-maintained? If not, what will it take do update it?
Does your booth clearly portray your brand message and corporate distinction?
Does your exhibit engage visitors and provide an interactive experience? Attendees are looking for interaction with company representatives, education and a chance to see products in action, according to Bowman. Be sure your exhibit meets their needs.
Is your sales team well-trained and knowledgeable in how to meet and greet visitors who come to the booth?
Do you have an automated or easy method of collecting data (who stops by, what their interest level is, how to contact them after the show)?
What are your specific goals for the tradeshow (including who you want to see, introduce a new product or service, conduct research, get customer testimonials, entertain or educate visitors, etc.)?
Do you have a list of materials you need to assemble and take to the tradeshow? It's better if you are over-prepared than under-prepared.
Establishing a Tradeshow Presence
From visibility to credibility, attending and exhibiting at a tradeshow can have many benefits for your organization. It provides "a cost-effective, powerful channel that enables a brand marketer to accomplish multiple business objectives using time and cost efficiently," Bowman says. "This is its unique value, not matched by other channels."
Establishing a presence, whether big or small, gives you a powerful platform to meet new clients. It lets you connect with existing customers and build a more recognizable and reliable brand. Before making the investment, think strategically about which shows to attend, in what ways you want to participate and how you can stand out once you are there. To learn more about trends affecting trade-show participation, check out the Center for Exhibition Industry Research.