Personal and corporate websites have been around since the early 1990s. In the beginning, sites were purely informational and were limited by the slow Internet speeds that plagued the early dial-up days of the World Wide Web. With text-heavy content, the sites served as online brochures. The same copy that was used in a marketing piece was posted on the website. Over the years, advances in technology have enabled companies to update their sites in a way that effectively drives visitors to the site. As well, this technology engages visitors while they are viewing the websites and even provides customized content and experiences based on their personal profiles.
To remain competitive in the marketplace, it's important to recognize the need to communicate differently with the target audience. Today, there is a focus on problem-solution scenarios, identification of a competitive distinction and continually changing content that helps position companies as thought-leaders in their industries. To accomplish these goals, here are seven best-practice considerations:
Tips for Improving Your Website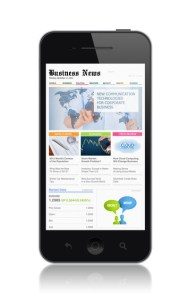 1. Make your website mobile friendly. In April 2015, Google rolled out a new algorithm designed to give preference to mobile-ready websites over their non-responsive counterparts. As companies transition to the new format, it is important that the layout doesn't require visitors to scroll down through huge amounts of information.
2. Make sure navigation works. When navigation is unclear or less than intuitive, it becomes difficult for visitors to find what they are looking for quickly and easily. As a result, they may lose interest.
3. Have contact information on every page. Companies that add phone numbers, email addresses and other ways to connect at the top and bottom of every page make it easier for visitors to take the next step.
4. Use pull-down menus where visitors can go to find the information they seek. There are a few "must-have" tabs. Regardless of what they are called, they include "Who We Are," "What We Do," "Why Do Business with Us," "News/Blog" and "Resources." Then for example, under "Who We Are" companies can list the key executives; the vision, mission and values of the company; company history; offices; accomplishments and other credentials.
5.Use attractive and engaging graphics while minimizing verbiage. As the saying goes, a picture says 1,000 words. Don't fall into the trap of trying to communicate everything via your website. The harsh truth is that most visitors spend fewer than 15 seconds on your website. You can always provide downloads to further explain a company's products, services and credentials.
6.Update content consistently and frequently. Whether it's blog content, press releases, awards, new products or services, testimonials or other customer-centric content, develop a process for continually updating the website to make sure nothing falls through the cracks. 
7. Create an action step. Ask site visitors for input. Include a simple sign-up to receive newsletters or blogs. Offer an incentive for completing a form and providing contact information.

First Impressions Count
Website development and maintenance can be a full-time job. If you don't have the resources to do this internally, consider partnering with a firm that specializes in website content, design and analytics to make sure you're putting your best foot forward in the marketplace. Remember, you never get a second chance to make a good first impression.