What company in business today doesn't want to be quoted or published in the Wall Street Journal, Fortune, Huffington Post, Forbes, Inc., Harvard Business Review, Fast Company or other nationally recognized media? Not many. But it's a goal that is difficult to achieve…unless you do your homework first. Here are some tips to get published in mainstream media.
Forbes and Harvard Business Review
Every publication has different policies for contributors. Here are just two examples.
When it comes to Forbes, there are three approaches a company can take:
Prospective authors can contact a staff writer direct by clicking on a current staff writer's e-mail icon. To do this, log in via social media or a Forbes account.
Secondly, you can send story idea pitches via ideas@forbes.com. However, with this method, there is no ability to follow-up. The editorial staff will contact you only if they find your topic of interest.
Alternatively, any credentialed author can submit a completed article as a guest contributor to Forbes Opinion via opinion@forbes.com. Forbes Opinion accepts submissions of any length on topics related to public policy, politics, arts, and culture for online publication. Any article submitted to Forbes must be original and exclusive to Forbes.
On the other hand, Harvard Business Review (HBR) provides subject matter experts with a specific set of guidelines. The publication covers a wide range of topics including:
Strategy
Leadership
Organizational change
Negotiations
Operations
Innovation
Decision making
Marketing
Finance
Work-life balance, and,
Managing teams.
In addition to print and online articles, HBR offers podcasts, videos, slide presentations and just about any other media that might share worthy topics effectively with its audiences. According to the publication's guidelines, here are the five qualities editors look for when evaluating what to publish: Expertise, Evidence, Originality, Usefulness and Persuasive, Interesting Writing.
Tips for Mainstream Media Success
The bottom line is that every national media outlet has its own policies and requirements when it comes to editorial submission. However, there are some general guidelines to follow. They include:
Familiarize yourself with the publication. Read and review published articles to see the topics, style and approaches used by authors.
Make sure your content isn't self-promotional and doesn't sound like it was written by the PR department.
Consider contributions to the op-ed section as an alternative to bylined articles.
Develop a strong query. Many publications don't accept unsolicited submissions so create a pitch to the editor that is unique, insightful and relevant to readers.
Establish relationships with editors and reporters by commenting on their work in social media. Offer to become a resource for them in the future.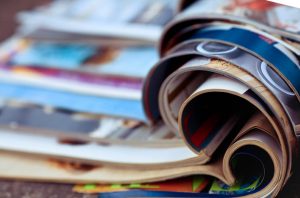 Achieving national coverage in well-recognized and well-regarded publications can be challenging but is well worth the effort. Getting published in mainstream media as well as trade journals increases your visibility and credibility in the marketplace and can lead to additional opportunities. If you want more information about how to submit your topics to specific publications, please contact Trade Press Services.