Because we live in a 24/7 connected world, many business people rely solely on emails and texts to manage relationships. While these mediums are convenient and easy, they are lacking in other ways. It's very difficult to build and maintain relationships without the personal touch. If you are willing to go the extra step, consider increasing the number of face-to-face meetings or phone conversations you have with prospects, customers, co-workers and others. Here are 16 tips to manage the process.
In-person meetings:
1.      Develop rapport. Smile. Greet the other person with a firm handshake. Offer a sincere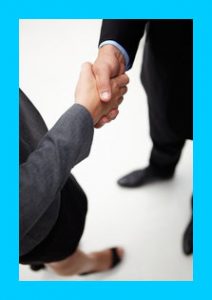 compliment.
2.      Use an agenda to keep the conversation focused and on-track.
3.      Set a time limit for the meeting up-front.
4.      Ask questions and listen to the responses.
5.      Identify next steps.
6.      Follow up in writing.
7.      Thank the other person for his/her time.
"It's hard to say exactly what it is about face-to-face contact that makes deals happen, but whatever it is, it hasn't yet been duplicated by technology."  – Paul Graham, programmer
Phone calls (including Skype, WebEx, etc.)
1.      Whenever possible, schedule in advance and send a meeting request with all pertinent information.
2.      Communicate the purpose of the call.
3.      Ask who will be participating in the call.
4.      Provide alternate contact information such as a cell number in case of an emergency.
5.      Be on time, and always ask if it is still a good time to talk.
6.      Keep conversations short unless an extended period has been booked in advance.
7.      Collect the appropriate information to take the next step.
8.      Follow up in writing.
9.      Thank the person for his/her time.
Importance of Business Relationships
Creating business relationships is more than having a list of names and numbers in your contacts directory. When you develop quality relationships, the end result is win-win associations that can yield mutual success. Remember that business relationships are like any other relationship—they take time and effort to grow, nurture and maintain. With time, genuine interest and mutual respect, the quality of business relationships can be your most meaningful and successful marketing differential.