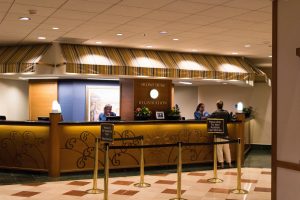 Every business has its policies and procedures to support business operations. However, when those behaviors negatively impact the customer experience, it's time to re-evaluate. Here's an example: I recently stayed in a hotel and resort in Southern California and the experience was anything but hospitable. We arrived at the hotel, hot and tired, from a long trip. It was two hours before the official check-in time, which was 4:00 pm. Since check-out time was 11:00 am, it would seem that some rooms would be ready for new guest arrivals by 2:00 pm. The front desk staff acted as if our request for early check-in was an unreasonable inconvenience and made little effort to accommodate us. As a result, we waited almost two hours to get into our room.
How to Treat Customers
How would you have handled the situation? Let me count the ways:
First, I would have acknowledged weary travelers and asked if I could get them a cold drink while I contacted housekeeping to check on the status of room availability.
Second, I would ask housekeeping if they could alter their schedule to prepare a new room as soon as possible.
Third, I would apprise the guests of the status of their request and provide them with regular updates.
Fourth, if need be, I would check with a manager if I needed further assistance in resolving the issue.
This is not rocket science, but simple steps that show an interest in delivering a positive customer experience.
The hospitality industry, just like other market segments, is a competitive one. Brands spend a lot of money on advertising and promotion to win and keep market share. Yet in this instance, they were not successful. I don't know whether my experience resulted from a lack of training or whether it goes much deeper into the corporate culture of the hotel chain. In either case, senior leaders need to know and be accountable for the attitude and behavior of their frontline personnel. The same is true in other industries.
"Revolve your world around the customer and more customers will revolve around you." – Heather Williams
Enhance the Customer Experience

A customer's experience with any business goes a long way to developing loyalty and repeat business. It's not really that difficult. Smile. Be warm and friendly. Be creative and innovative. Adopt a "yes" or can-do attitude. Take pride in doing something nice for someone else. It pays off in the long run.