Savvy leaders know that marketing is a critical business initiative and provides the support companies need to accelerate business growth, sell more products and services, increase profitability, and gain market share. To accomplish these goals, consider these six marketing maxims—or business truths that are the foundation for marketing success.
Marketing Maxims
Fact 1: The more people who know about your company, the more business you will generate. While this sounds logical and easy enough, it isn't quite so simple. Marketing is more than just a numbers game, and companies need to think about the cost of sales, their reputation in the marketplace, customer loyalty, repeat business and staying ahead of the competition.
Fact 2:  If marketing resources are on overload, some marketing programs and priorities will fall through the cracks. In an increasingly crowded marketplace, internal and external marketing personnel are faced with dwindling budgets, the requirement to do more with less, an increase in mergers and acquisitions that wreaks havoc on the business environment, and understaffed departments. To prevent potential disasters, these limitations need to be addressed.
Fact 3:  Failing to plan is planning to fail. Yes, this might be a trite phrase that has been repeated for more than a century, but it is true. How many companies have marketing, sales or business-development teams that are operating by the seat of their pants? Far too many. Even if companies have a plan, have they communicated it? Have they funded it? Have they assigned responsibilities and project deadlines? Often not. And who's monitoring the plan? How does anyone know whether it's working or whether it's time to go back to the drawing board? A realistic marketing plan with achievable goals, target dates and responsible parties is critical for success.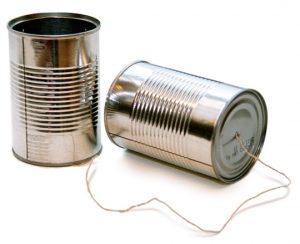 Fact 4:  Communicate, communicate, communicate. All stakeholders need to know and embrace the company's vision,
mission, values and priorities. Without this type understanding and transparency, it's virtually impossible to build loyalty and increase engagement. Part of a communications plan involves looking at frequency of contact, the right messaging and the right medium to use to maximize the company's value proposition. This is important for internal stakeholders as well as external target markets.
Fact 5:  Integrated marketing efforts produce better results. The right combination of email, telephone calls, texting, social media posts, in-person sales calls, webinars and tradeshows is highly dependent on the product or service being offered as well as the profile of the intended buyers. Remember, everyone learns differently and has personal preferences about how they like to receive information. So whether a company sells direct or through other channels, a combination of auditory, visual and tactile experiences creates more powerful marketing outcomes.
Fact 6:  On-target messaging is the cornerstone of effective marketing campaigns. Too many marketers want to talk about the great attributes of their products or services. They want to engage in corporate breast-beating and promote their claim to fame. But the reality is most people don't care. Buyers want solutions to the problems that keep them up at night. Therefore, messaging has to answer the question, "What will it do for me?"
Marketing Success
In a complex and evolving marketplace, the needs of consumers change daily. Therefore, it is essential for marketers to remain agile and relevant. This requires the ongoing engagement of the entire sales and marketing team. Marketing success also requires a commitment to consistently innovate, adjust, monitor and evaluate the frequency of marketing outreach, the relevance of the marketing messages produced and the appropriateness of the mediums used to reach prospects and customers.