When the holidays roll around, many of us instantly start thinking about what gifts to buy our loved ones. In some cases, we know exactly what to get, while others send us running around at the last minute trying to find the "perfect" gift. But the spirit of giving shouldn't revolve just around family and friends. What about the people who've made your gift giving possible? Your customers. Sending a small gift or gesture to new or returning clients is a great way to maintain a positive relationship and let them know you appreciate their business.
Get Creative In Customer Appreciation
Here are some ideas to get you started on finding the right kind of customer appreciation gift that will bring joy during the holidays.
Make it relevant. Your gift can correlate with your product or services, such as a paper company that sends personalized notepads to customers. Other items in this category include notebook portfolios, paper weights, journals, motivational plaques and posters, calendars and candles. The key here is to make sure the gift has the client's name on it, not yours.
Make it long lasting. One example, especially for those who are environmentally conscious, is a plant that will brighten up any office and serve as a reminder of your gratitude for months to come.
Make it experiential. Whether it's a gift card, concert or theater tickets or a gift certificate to a nice restaurant, try to pick something in which you know your customer is interested. Of course, that means paying attention to details throughout the year.
Actions Are Gifts Too
If sending a traditional gift isn't up your alley, there are other ways to says "thank you" to valued customers. Here are just a few:
Promote your customer's company on social media and acknowledge them for their achievements.
Pick up the phone and call someone. Placing a call to do nothing more than thank a customer for his or her business goes a long way toward engendering loyalty.
Include a surprise perk or upgrade to the product or services a customer just purchased.
Offer a holiday discount. Get creative with the numbers, such a percentage off that matches their years as a customer—a kind of "anniversary" celebration.
Host an event or party and invite valued customers.
Make a donation to charity in your customer's name.
More "Give" Than "Take" in Your Relationships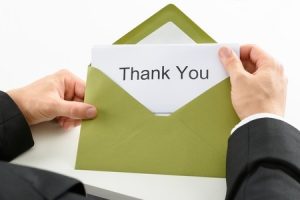 Customer appreciation isn't just about making a kind gesture for the holidays; it's about maintaining a deep relationships throughout the year. Often times we can get caught up in following leads, trying to find new clients or increasing brand awareness, and we forget client retention is even more important. After all, on average, loyal customers are worth up to 10 times as much as their first purchase. Continuing to demonstrate your interest and build rapport deepens relationships. It is a great way to make sure they know you care and that you (and your company) value the relationship. What better way to ensure your customers remain loyal for years to come? Get into the spirit of giving this month and ensure your customers make the list.