With high school and college graduations in full swing, it won't be long before recent grads flood the market with their attempts to nail down their "dream" jobs or at least get a foot in the door to start their careers. At the same time, many individuals already in the workplace have been displaced through budget cuts, mergers and acquisitions or companies simply going out of business. What should these folks do?
One answer comes from Elisha Krauss, one of the co-hosts of Salem Radio's show, "The Morning Answer." In a recent interview with Dennis Prager, he noted her admirable accomplishments, starting as an intern with Sean Hannity when she was just 18 and working her way up to a position as a show producer—the youngest ever. When Dennis asked how she did it, she replied, "I dressed appropriately, spoke well and busted my butt."
6 Ways to Stand Out From The Crowd
Those are noteworthy words of advice, but there are others we'd like to add to help job seekers make their mark, create their personal differential and stand out from the crowd.
1. Say "yes." When an employer asks you to do something, even if you don't have the skills or information, go for it as long as it isn't unethical. Use your initiative and creativity to figure out how to get the job done, and do it. Those in power will take notice, and you'll stretch your skill sets.
2. Listen with curiosity. Don't interrupt. Take notes. When the speaker is done, ask questions to show you are interested, gather more information and demonstrate that you understood the information shared.
3. Don't procrastinate. Do it now. Even if the task at hand is complex and involves other people and multiple steps and decisions, put together an action plan. Let your manager know when you will have it done and, if appropriate, keep him/her informed along the way. Most important, don't miss a deadline.
4. Be visible. Write, publish, speak. Volunteer for new assignments. Build a presence by blogging, presenting at webinars, joining and participating in special-interest groups or associations.
5. Create a personal business plan to guide you throughout your career. Include your values and beliefs, vision for the future, a mission statement, and specific goals (business/career, study/education, service/ personal/social, leisure, health, spiritual, financial, etc.). Be sure to identify strategies and write down your action steps. Incorporate start and finish dates as well as deadlines for steps along the way including essential progress reviews and reassessment of ongoing goals. Having a plan of this type builds confidence and helps you stay focused.
6. Develop your people skills. Be friendly and smile. Encourage others. Be a team player. Offer sincere compliments to others. Demonstrate your integrity and trustworthiness through your actions.
Personal Differential Development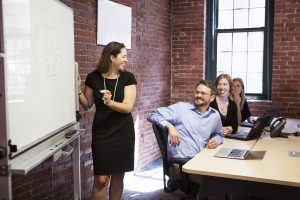 One way to further develop your personal differential in the workplace is through training and education. Rick Hernandez, president of Syntesis Global, a management consulting company that provides state-of-the-art leadership and performance consulting ranging from executive coaching, change optimization and team building to organizational effectiveness and career management services, is offering three specialized webinars for people in transition. The first is called, "I'm Graduating… Now What?" on Tuesday, June 7 at 11:00am PDT.
The second is, "I Hate My Job. What Do I Do?" on Thursday, June 9 at 11:00am PDT.
The third is "Millennials in the Corporate World" on Tuesday, June 14 at 11:00am PDT.
In these programs Rick teaches job applicants to build their personal brand by focusing on three key strategies: preparation, presentation skills and a strong value proposition. To learn more about these workshops, please call 800 920-7218 or email Rick at rickh@syntesisglobal.com.