Content creation is a must for any business to increase brand awareness. It's also an important method for communicating with your customers and prospects. In fact in a survey of marketers, 86% of marketers report they are planning to increase the amount of content they publish in 2018.
Generating marketing content and distributing it appropriately showcases your relevant industry expertise. In a pivotal way, it positions your organization as a leader in the marketplace. Whether content takes the form of blogs, press releases, case studies or other types of communications projects, communicating more is often better. But how often should you reach out? Which channels require more frequency? Is there a standard of best practices?
As experts in B2B marketing, we know how to maximize various methods of outreach. The following are our recommendations for frequency of marketing content as part of an overall marketing strategy.
Communicating: Frequency of Marketing Content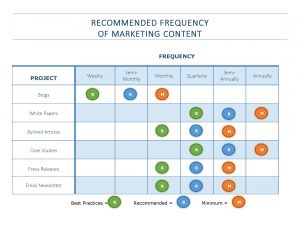 As you think about your internal resources including time, money, and personnel, you might be wondering which communications projects are right for you. Here is a brief description of each one to help you in your planning efforts.
Create a Communications Content Schedule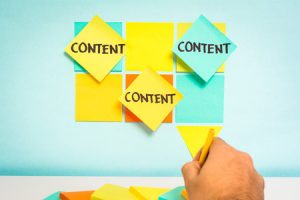 Of course, content frequency doesn't end with these communications projects. Don't forget about initiatives such as social media posts, e-books, press kits, infographics and more. There are also countless methods that aren't text-based. These include presentations, webinars, events and speaking engagements. Start by using this matrix to assess your company's frequency of contact with prospects and customers via marketing content. Then, take your outreach a step further. Consistency is important when it comes to creating a marketing plan that works for your team and a content schedule for communicating with prospects and customers. Ultimately, this helps accomplish critical organizational goals.