Finally, your portfolio is flourishing with successful and powerful work completed for your clients. Yet, no one seems to be noticing. What's missing? How about the actual client's opinion? In fact, 89% of B2B marketers consider client testimonials to be the most effective content marketing tactic available to them.
While a rich portfolio should be able to speak for itself, there's something more compelling about a customer testimonial that cannot be conveyed through the work itself. It's about personal relationships and trust. When prospects read how others value your company, products or services, they are more likely to want to do business with you and your company. There's no question about it. The written and spoken words of others strengthen your prospects' beliefs that they can expect the same deliverables from you. This ensures a positive ROI, in whatever way that is defined for your organization.
Best Practices for Client Testimonials
Yet, like every other marketing initiative, creating and using testimonials need to be done well to garner attention. Here's how to make your client testimonials stand out.
Make Client Testimonials Human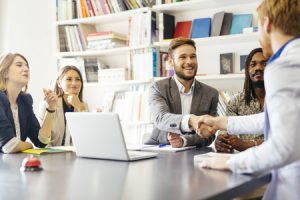 What people say about your products and services can have an enormous effect on your company's success. In the highly logical world of B2B marketing, decision-makers look for reassurance that someone with a similar problem or challenge has had success with your organization. Hearing from clients who have had positive experiences with your company adds the personal touch that reassures prospects and develops trust and confidence. You spend a lot of time, energy and resources building relationships with your clients and that's worth showing off. Use client testimonials effectively to produce an authentic human element to your marketing. It will enhance credibility, build customer loyalty and create a competitive advantage.